Blog by ECC's Armed Forces Champion, Cllr Derrick Louis
On Thursday I stood silently with the rest of the country, as I did again today, to remember the service and sacrifices the Armed Forces have and continue to make on our behalf.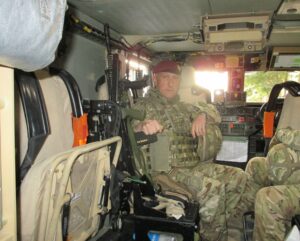 This year marks 100 years since the nation's collective Remembrance traditions were first bought together, and thankfully this year we were too able to come together, in person, at a remembrance service at County Hall to pay our respects, something we were unable to do last year due to Covid-19.
It's always an emotional time for me, having served my country in the British Army for over 30 years; both at home and overseas, it's also a time for me to reflect personally on my experiences in the Army and remember lost colleagues and friends.
It is also important for us to recognise veterans and armed forces communities at times such as these and ensure that they, and their families are supported.
As ECC's 'Armed Forces Champion' I am committed to improving the lives of our armed forces communities. As part of the Essex Armed Forces Community Covenant and the Essex Civil Military Partnership Board, we work with partners and military representatives to find out what issues, challenges and disadvantages are suffered by armed forces personnel, veterans and their families and work on ways to tackle these.
The work we do with our armed forces communities really does make a difference and I would encourage any veterans or existing members of the armed forces to please take a look at our website to see what support is available.
More details on support offered to the armed forces community, including veterans can be found at www.essex.gov.uk/essex-armed-forces-community-covenant