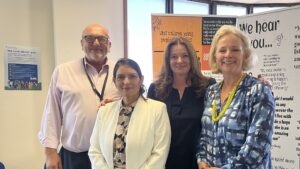 Yesterday we met with the Secretary of State for Education, Gillian Keegan MP, along with our Essex MPs, in person and online, to review the position and progress on RAAC in our schools.
Following this meeting, I thought it was important to provide a summary of the conversation, the points which were made and clarified, and updates on future actions.
An overview of the current situation was provided, including the numbers of schools affected and the mitigations already being applied, as well as those in place already. The Secretary of State characterised Essex as "working furiously" to get temporary classrooms and other accommodation into school sites affected.
Of the worst impacted schools, there are currently 10 schools in Essex which will have a mixture of face-to-face and remote learning for a period of time. Others have delayed the start of term. It is anticipated that by the October half-term, the position in terms of face-to-face learning will have greatly improved, with temporary accommodation having been put into place.
Some of these structures are high-quality, large-scale, steel-framed conference/exhibition marquees, capable of accommodating 800 to 900 people with flooring, heating and lighting. We are linking schools with companies able to supply such structures.
The Secretary of State and her officials were able to offer clarity over the key issue of revenue funding for school services, which are impacted but not covered by capital funding. This for example could include home-to-school transport if temporary classroom accommodation is off-site, as well as things like technology.
The clear message was that if the request from a school was required and reasonable, it would be accommodated. Officials acknowledged a process would need to be put in place. Project teams will also be working with the worst-affected schools.
We were able to impress on the Secretary of State the need for the Local Authority to be at the centre of a response to an emergency situation of this nature in future, along with the DfE. We will ensure that the learning from our response to this situation will be collated and used to inform future responses.
Finally, we are proud to share the praise and the thanks from the Secretary of State and her team on how Essex is dealing with this. It is clear they have been extremely impressed with the way in which our officers, headteachers and school communities have risen to the challenge.
We will continue to communicate progress in terms of mitigations, always remembering those schools, children and parents who have been more adversely affected and for whom the situation will remain difficult.
It is clear Essex has stepped up to the challenge and will continue to do so.