A blog by ECC's Armed Forces Champion, Cllr Derrick Louis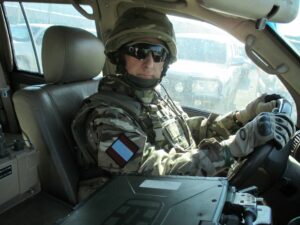 As Essex County Council's Armed Forces Champion, I am fully committed to supporting the Armed Forces Community across Essex. This is a commitment which I know is shared across the whole organisation.
To help enable us to meet this commitment we have been working hard on a very significant piece of research - the Essex Armed Forces Needs Assessment (AFNA).
Having served my country in the British Army for over 30 years, both at home and overseas, I am proud of our work to support the Essex Armed Forces Community. But we know we can do more, and this is why the production of the Essex AFNA is so important.
The AFNA, which covers Essex as well as Southend and Thurrock, forms one chapter of the wide-ranging Essex Joint Services Needs Assessment. This helps inform decision makers across the county on where and how to commit public resources to best serve our diverse and ever-changing communities. The Armed Forces Community, which is made up of serving, regular, personnel, reservists, service leavers and veterans, as well as their families, is one such community in Essex.
We take our responsibilities to serving and former Armed Forces personnel extremely seriously and we are determined to ensure they do not face disadvantages because of their service. This means ensuring they have access to important public services, particularly healthcare, education, and housing.
The AFNA will help us, and our partners, focus resources where they can make a real difference. It also considers the transition and resettlement process which occurs when leaving the Armed Forces, as well as how the Criminal Justice System responds to the Armed Forces Community more generally.
To produce the document, our Research and Citizens Insight Team has worked closely with partner organisations across Essex. This includes our local government partners, the NHS, Anglia Ruskin University, and a range of other sources of data.
By producing the AFNA, we are championing our Armed Forces Community and promoting a fairer Essex which recognises their service, for which we are all very grateful. The research gives us a thorough and accurate insight into this highly valued and respected section of our society to whom we owe a great deal.
I am excited about how this will allow us to further support the Armed Forces Community in Essex.
I will be sharing the report with the Lord-Lieutenant of Essex, Mrs Jennifer Tolhurst, who has shown a great deal of interest, and I look forward to sharing it with colleagues and partners in due course.
Read the new Essex Armed Forces Needs Assessment.