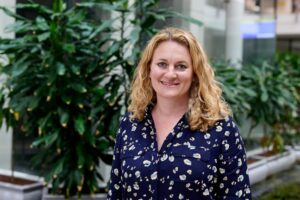 As part of my role leading the Essex Safety Advisory Group, I've been keen to get out and about to see first-hand the work that is being done on the ground to keep our residents safe.
A couple of weeks ago, I ventured into Chelmsford late one Saturday night, where I joined the fantastic team of volunteers at the SOS Bus to find out more about what they do to look after people in the town centre at night.
I wanted to find out what challenges they face and the kind of issues they see each Friday and Saturday night when they are out in Chelmsford and Colchester.
I was greeted by Team Leader Holly and her team for the evening, all trained volunteers who give up their time each weekend to offer a safe haven for late-night visitors. They work alongside qualified medics, who are on hand to provide medical support to people who need it.
The volunteers work at the heart of the night time economy helping people that might be vulnerable or at risk. This can range from making sure people get home safely to helping visitors with a wide range of subjects like alcohol misuse, drug misuse or being a victim of harassment or intimidation.
The team also coordinate with other support services like the street pastors, door staff at pubs & clubs, the Police, Ambulance Service and A&E meaning that whatever happens, there is always someone to help. This approach helps alleviate pressure on the emergency services by helping people on site and thus avoiding the need to call for assistance.
This was my first time seeing the bus, and I was really impressed. It's fully kitted out with everything needed, included medical supplies and equipment. It also has comfortable, clean spaces for people to use while they either wait for other agencies, or get support from the SOS staff themselves.
It was really humbling to see what amazing work the team are doing, particularly how they are supporting women while out and about at night, which is a key focus of our work.
I really want to thank Joe, Alex, Chenise, Mitchell, Hannah, Sam, Holly and Samantha for showing me the ropes and being so welcoming, I really look forward to coming to see you all again soon!
If you are part of an organisation or initiative that aims to improve public safety, I would love to come and visit you and find out more about what you are doing. Please comment below and I will get in touch.
Find out more about the SOS Bus and the great work they do and see more of my visit below.