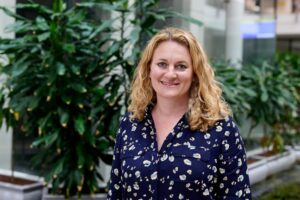 We recently hosted the first two of what will be a series of engagement events on the new Essex Library Vision. It was great to see both sessions so well attended, giving me the opportunity to engage with the public early in the process. It has also provided the chance to reflect on how libraries can be more meaningful to our residents and incorporate their feedback as we set out our guiding principles for libraries in the future.
It is crucial that we invest in opportunities as we look at how libraries best fit with people's lives, especially following the changes we've seen because of the pandemic. We have become reliant on technology in new ways, and the way we use both our homes and public spaces has also evolved. It has also strengthened many people's feelings about what their communities and community facilities mean to them.
With that in mind, I used our library engagement sessions to emphasise that all 74 ECC libraries will remain open and will be run by Essex County Council staff. As I outlined in the engagement sessions, the approach to the new plan will focus on three areas:
The expansion of the library services
The infrastructure of the libraries (including location, maintenance and IT offer.)
How libraries and the service can be used to support our more vulnerable groups and areas within our communities
If we are to increase the use of our libraries, we need to attract new members, while continuing to support current users. We will only achieve this if we understand what our residents want from libraries so we can ensure that the offer is both relevant and accessible.
Increasing footfall and improving the offer and ease of access are a key priority. The number of libraries will remain the same, although there may be opportunities for a library to be relocated in the future to a better and more appropriate site. Some of our libraries need refurbishment (and this process has already begun) and we need to make sure we are utilising the space to the best possible benefit of our residents.
I am also keen to explore how residents can input into decisions regarding how new stock is chosen and purchased; both in terms of the type of stock made available and the mediums through which they are offered. This follows the news earlier this year that Essex has joined the Library Consortium, providing residents with access to an additional six million items of stock.
We regularly review opening hours to ensure libraries are available at times that best suit the community and have libraries across every area in Essex operating evenings and weekends in an effort to accommodate the needs of local people. We welcome continued feedback on this, and of course, we do offer many services online for those who are not able to visit our libraries in person, to ensures the service is accessible to residents 24/7.
I would like to thank everyone who has taken time to contribute to this engagement process so far. This is just the beginning as we seek to position libraries to at the heart of our communities and develop an offer that can lead to lasting positive change. We will be holding further sessions as we progress with preparing the new vision, reaching out not only to current library users, but to non-library users as well.