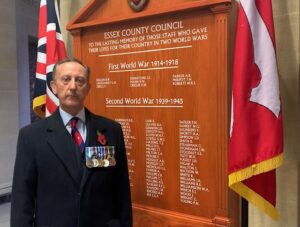 By Cllr Derrick Louis, Essex County Council Armed Forces Champion.
This week is Armed Forces Week, which included National Reserves Day on Wednesday (21 June) and ends on National Armed Forces Day on Saturday 24 June.
Essex has a long and proud association with the armed forces. At Essex County Council we're committed to supporting both serving and veteran armed forces personnel, as well as their families.
I served my country in the British Army for over 30 years, so supporting Essex's serving and ex-service personnel is very important to me. I am proud of our work in this area as I know how much of a difference it can make to individuals and their families.
Our HR policies now include support to reservists for mobilisation and paid leave for training.
Wel have a guaranteed interview scheme for all veterans and service leavers who meet the minimum requirements. We also have flexible working options to help balance family and other commitments such as leadership within cadet forces.
Our employee surveys help identify members of the Armed Forces Community and seek their views on how we can better support them. Through our engagement we have established an Armed Forces Community Staff Network.
We work with partners and military representatives to identify and tackle issues, challenges and disadvantages affecting the lives of armed forces personnel, veterans and their families. These challenges and disadvantages include:
mental health
physical health
housing
employment issues
We strongly advocate for companies and organisations in the county to sign the Armed Forces Covenant, a pledge to treat the armed forces community fairly.
We recognise the vital work of all current serving armed forces staff. The British Army is currently deployed around the world, in Cyprus,  Africa,  the South Atlantic, and significantly as part of the enhanced Forward Presence (EFP) in Estonia, Latvia, Lithuania and Poland giving their strength to Euro-Atlantic security.
We respect the Royal Navy ships currently on patrol in the seas of the Middle East and the Royal Navy submarines carrying the UK's independent nuclear deterrent. We also pay tribute to the Royal Air Force, deployed around the world, protecting the UK with a rapid reaction force and working with civilian partners for duties such as air/sea rescue.
Last year we were awarded the Employer Recognition Scheme (ERS) Gold Award by the Ministry of Defence. The award recognised our  support for the armed forces community.
You can read more about the Essex Armed Forces Community Covenant.