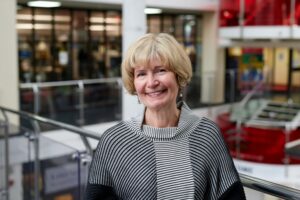 We all know how important digital connectivity is for our county. We want to ensure that opportunity is more fairly distributed across Essex, so that everyone can maximise their potential. From enabling people to work from home during the pandemic and beyond, allowing businesses to thrive, to helping us stay connected to loved ones - having access to good broadband makes a huge difference to our everyday lives. Fast internet connections are also a key foundation for our Everyone's Essex strategy.
That's why, as Cabinet Member for Economic Renewal, Infrastructure and Planning, providing Essex residents and businesses with access to fibre broadband is at the top of my list of priorities. I work closely with the county council's broadband improvement programme, Superfast Essex, which focuses on reaching homes and businesses that would otherwise be left out of plans for fibre broadband.
To date, 1 in 6 addresses have been upgraded to fibre broadband as a direct result of the programme's work. That's 146,000 addresses benefiting from superfast broadband speeds of at least 30Mbps – and, of those, 24,000 have access to some of the best broadband connections in the country, offering gigabit speeds of up to 1,000Mbps.
Our rollout is continuing; I'm delighted to share with you that more residents and businesses are set to benefit from better connectivity thanks to a reshaped version of our most recent contract with Openreach, funded by the Department for Environment, Food and Rural Affairs (DEFRA). By adding further investment from the South East Local Enterprise Partnership and the Getting Building Fund, we've been able to maintain our current plans as well as reach additional residents and businesses – all of which are rural and currently unable to access a superfast broadband service.
Our priority is to reach those who are still unable to access a superfast service, and with that in mind we'll be working closely with the regulator Building Digital UK – part of the Department for Digital, Culture, Media & and Sport – over the next few months to shape new and ambitious plans to reach rural areas of the county with gigabit coverage.
We are also pleased to see that many commercial operators are choosing Essex as a place to build both gigabit broadband and 5G mobile networks. These rollouts sit outside of our delivery programme, but we are stepping up our engagement with the commercial networks. We will support and guide their plans so that better digital connectivity can be rolled out to more residents in our county as soon as possible.
Find out more about the Superfast Essex programme and the work we're carrying out.